Hedge Planting
Best Green Hedges is a full-service cedar hedge planting provider, that offers small- and large-scale hedge planting services across the City of Ottawa. Each cedar hedge planting job is carefully planned and executed using skilled Best Green Hedges employees, professional landscaping equipment, and Best Green Hedges' own exclusive supply of quality farm cultivated eastern white cedar trees.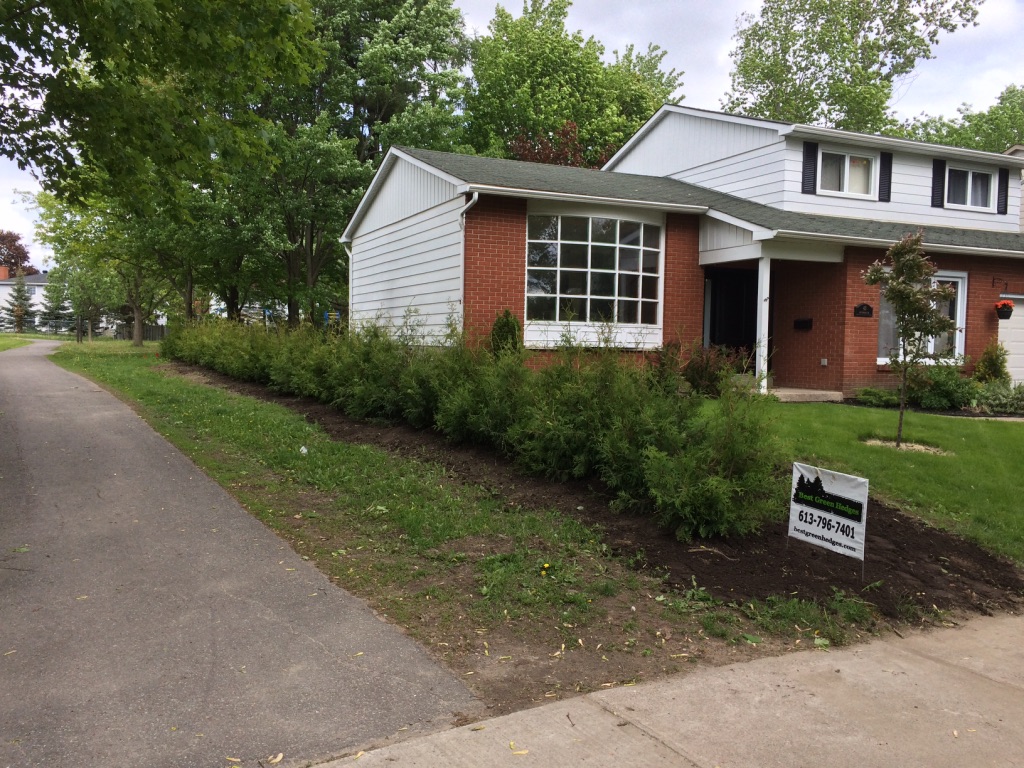 Best Green Hedges is committed to the utmost quality and professionalism with each hedge planting job, and achieves this by paying close attention to key details including planting farm cultivated cedar trees within a day of being dug out (unlike some companies that use cedar trees that have been dug and left out for days or weeks); ensuring proper spacing between each planted tree; and educating customers on maintaining their newly planted cedar hedges, with personalized recommendations on care and watering after assessing the property's soil quality.
All quotes provided by Best Green Hedges for a hedge planting job include:
individualized consultation and advice;
excavation, delivery and planting of all cedar trees;
professional landscaping equipment including mini excavators, sod cutters, dump trailers, dump trucks, tractors, shovels and wheel barrels;
skilled employees and labour for installation of cedar hedges;
soaker hose(s) installed along the hedge;
fertilizer and extra top soil;
clean up and removal of debris;
personalized advice on care and watering of newly planted trees; and
one year guarantee on all trees with free replacement of trees that do not survive the initial shock of transplant.
Best Green Hedges also specializes in removal of existing tired hedges and re-plant jobs; for additional details, please see the "Hedge Removal" service page.
It is important to note that Best Green Hedges specializes in, and exclusively uses eastern white cedars for all hedge planting jobs, and will not undertake hedge planting jobs where different cedar tree species are requested. It is highly recommended that homeowners take the time to educate themselves on choosing appropriate cedar tree species based on climate, ongoing maintenance requirements, and preferred look. Please see the Best Green Hedges articles below for additional details: